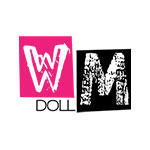 WM Dolls - Premium Sex Dolls
WM Doll, also known as WM Dolls, WMDOLL, is manufactured by Jinsan Model Factory in Zhongshan City, Guangdong Province, China. WM Doll is one of the first manufacturers to use TPE material to produce sex dolls. Their TPE material is environmentally friendly and non-toxic. Over the years, WM Doll has never stopped developing and producing patented products, and now they have developed many new sex doll features such as upgraded finger bones, a unique sex doll breathing feature, a sex doll cleaning system, and more. Choose a WM doll and you win!
WM® Dolls are well known for their exceptional quality and detail. They produce one of the best sex dolls in the world. Their sex dolls are made from WM's specifically developed premium TPE blend which is both hypoallergenic and eco-friendly. SEXDOLLBABE is an authorised vendor for WM Dolls. All WM Dolls are fully customisable and we also sell some WM Dolls in their USA warehouses. We provide WM Dolls at best prices. If you doubt the doll of our WM Dolls, you can check through WM Dolls Anti-fake System after you receive your dolls from SEXDOLLBABE. There is an anti-fake code in the user manul.